"It doesn't matter what you say you believe - it only matters what you do."  ― Robert Fulghum, All I Really Need to Know I Learned in Kindergarten
As much as I love social networks, I am often surprised at how some people choose to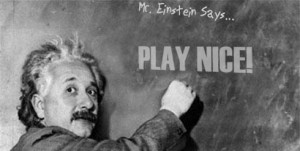 behave when participating in them. On open forums or blogs, it is not difficult to create an anonymous persona that can be hidden behind. Some of these players then use anonymity to unleash their lunatic fringe style fury on anyone who dares to disagree with what they have to say. While I will never understand the need to be so vicious toward others who merely have a different point of view, it happens because these types feel there are no personal or professional repercussions. After all, no one actually knows who they are.
Now let's switch gears and talk about LinkedIn. Unless you create a fake LinkedIn profile, people know who you are. For that reason alone, I'm even more surprised when I witness people behaving like idiots in discussions. After all, their picture (most of the time), their name and even the terms they use in their profile headline, which often includes the name of their company, is there for everyone to see.
I'm thinking about netiquette because of an exchange I watched play out in a LinkedIn group a few days ago. It is a classic example of what happens when people let their egos and ultimately their anger get the best of them.
It started with the questioner asking people in the group to share their 30-second elevator pitch. The individual asking the question needed to create a pitch and was trying to fire up their creative juices by hearing what others used in their own selling.
That's when it started.
Another group member confused by the request or merely trying to be helpful, shared a pitch as an example of what the guy asking the question could use.
It didn't go over well. That happened because:
That wasn't the request.
The guy who started the discussion didn't feel his company was represented correctly or fairly.
Then it began to get worse.
Member making the suggested pitch justifies his response. He went on to offer other elevator pitch possibilities. Trying to be funny – always dangerous if someone doesn't know you – he includes this as one of his suggestions… "I lend money to people who can't get it from normal sources. Kind of like the mafia. Most people choose me instead of them because they get to avoid the broken kneecaps."
Another member jumps into the fray and likens pitches to "carnival barkers" and says that while the other guy was being funny, he was making a serious point.
Now question asker is really offended and says so. He feels, and I have to agree with him, that comedian wannabe should be more careful about how he jokes about someone else's business, especially in an open forum. He goes on to remind both responders that he asked people to share their pitch. He did not ask for suggestions on how to write his. And he certainly wasn't thrilled about the negative comments made about the industry he works in.
At which point, more justification and arguing and drama ensue. Not good for the reputation of anyone involved. Me, I wasn't about to say a word, but I was certainly wondering where the group moderators were while this was going on.
The rules of social netiquette are quite basic.
Use common sense, be respectful, don't attack people, don't critique unless asked and for goodness sake, do not argue with each other in a public forum. In short, play nice with the other kids. Your brand and reputation depends on it.
P.S. this is group is "open" so there is no expectation that comments made remain private inside the group. Fair game to write about folks.