Incorporating video into our social selling content mix makes sense on many levels, although I'm the first to admit that I didn't do much with video until last year. Prior to that I was involved in several Google hangouts that were recorded, which I shared with my network, but I really didn't get more serious about creating video content that I could use in a more intentional way.
I had my reasons for not making video content creation more of a priority. One of those reasons was most certainly ego. Not a big fan of how I look on video, I used that as an excuse not to get going. Perhaps that true for you too?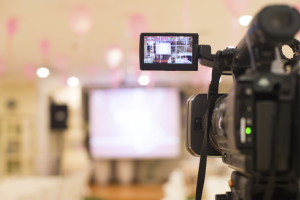 Finally, I got over myself.
My colleague and good friend, Doug Lehman (@douglehman on Twitter) has been in the Video Brand Ambassador game longer than most. A very early evangelist and practitioner, Doug has honed his craft and now works with clients to pull together video content that helps salespeople best represent their personal brand and topic expertise.
Watch a series that Doug and I created together called the Sales Accelerators. Sales Accelerators Video Series Watch for more videos coming soon.
Naturally, when thinking about writing this post, I wanted to interview Doug to get his take on the role that video content plays in sales and social selling. But before I turn you loose on part 1 of the interview, here are 3 reasons that Doug shared with me regarding why salespeople need to get involved:
-Use video to educate, demonstrate your credibility and expertise, provide social proof and promote your products and services. When buyers are doing their solutions research, they turn to video for quick, informative answers to their questions.
-Reduce travel costs and other expenses. Unlike back in the day, sales interactions don't always happen face-to-face, which explains the rapid growth of video technology being used in sales and marketing and incorporated into CRM processes.
-A sales video can be used as follow up after a sales call or meeting. Guaranteed to be more engaging than a static follow-up email.
Bonus reason: Video is great for capturing user-generated content (UGC), referrals and testimonials that build on the social proof that buyers consider during the decision making process.
Now, let's hear from Doug.
BG: How important is the use of video in selling today?
DL: I think video is important today but will more important tomorrow. Today, buyers and customers do their own research and look for immediate answers. Using video to educate, train and promote your products and service is powerful. Most buyers would rather watch a one to two minute video versus spending time reading a full text column or whitepaper. Video is not a substitute for face-to-face meetings, but it is the next best thing to being there.
Video itself can expedite the sales cycle. We now live in the age of information at your fingertips with buyers and customers researching solutions online and using mobile devices to access quick answers to their questions. Simply put your buyers are influenced by video and sales and marketing needs to be using video to their advantage. The rapid growth of video technology in sales, marketing and CRM is on the rise and demonstrates how important video is to your content strategy. Just look at all the new video technology providers. The simple fact is that your potential customers are using video to evaluate people, products, services and companies. Proactive engagement is paramount.
From a sales point of view, video that is compelling and engaging with the correct call to action will assist increasing revenue and expanding exposure and reach. Video works well with email, which is still a very popular form of communication. Cut through the email noise that customers and prospects receive daily, capture their attention and improve your click-through rates.
Leveraging video can reduce travel costs and other sales expenses. Video helps accelerate the sales cycle on all levels. Educational, explainer videos, product-training videos will provide buyers with more clarity about what you offer, but these videos also demonstrate advanced credibility and social proof about your capabilities. It has direct impact on the buyer's journey. Leveraging video content for lead generation with educational and explainer videos will allow for customer clarity in answering questions in the buyer's discovery and evaluation phase. Your customer will be further along in their decision process and closer to making a purchase decision. Video can shorter the sales cycle time for complex and transactional sales.
Video works well in post sales meeting follow up. Leveraging user-generated content, referrals and testimonials can be extremely powerful as buyers look to peers from recommendations. A simple sales video follow up after a call or meeting speaks volumes. It will stand out and personalize the sales process.
From a research point of view, video is a great tool. As salespeople, we can look for trigger points and reasons to engage with buyers. Though we call it social listening, why not perform social watching. Look at your customers videos and SEE what they are talking about in a more personalized format.
Finally, customer advocacy, repeat business, referrals, references and testimonials are powerful for influencing customers. Authentic Video Marketing resonates well with customers at the highest engagement level.
BG: What are the top 3 ways to get started?
DL: Before you get started, your first order of business is establishing your plan. Watch other video examples. Replicate and test out those concepts. Spend some time evaluating what works in the business world. Do your own research by looking at video production agencies. Use YouTube as a training research tool watch videos to get your planning down.
Start with a small video project first and get comfortable. Produce shorter videos with tips and simple calls to action (CTA's). Rehearse your project and practice before live video shooting commences. If you have someone that is more comfortable on camera, let them do the first video project or start with having your customers do a video testimonial.
Be natural and authentic and let your personality shine through. You want viewers to connect with you, which happens when your video is focused on something that is of value to the buyer. If you just make your video a sales pitch, you've wasted an opportunity. User generation content goes a long way too. Encourage your current customers to film a short-clip talking about why they decided to buy from you and what they liked about the process.
Using pictures for slideshows or screen casts are another way to get started. Interview style videos, live streaming and panel video chats like Skype, Google Hangout, Blab or Skype are great video tools to get started. The more experience you have on camera the better. The key to starting video is to start small, build and practice.
Breaking it down…in Lehman's terms, as Doug would say.
By now, I hope you can see that video is a compelling way for you, as a salesperson, to stand apart from your competitors. Don't keep waiting. It's time to get started!
Find part 2, where you'll learn about common video mistakes, the best platforms to host your videos and how to build your audience, here.
Make sure you connect with Doug. Talk to him about his services. He can help you get over the getting started hurdles. Reach Doug at: