Interesting that LinkedIn is becoming more Twitter like every day. They are now rolling out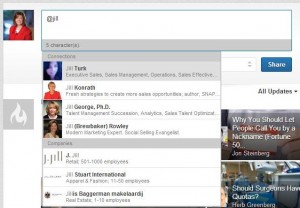 the Mentions feature, which is a nifty way to engage people in viewing and contributing their comments to your updates. Think @barbaragiamanco on Twitter and now you can do something similar on LinkedIn.
The feature also lets you mention companies and when you do your message is then linked to their LinkedIn company page from your update or comment.
Here's how it works:
Go to your homepage share box to post your update or click "comment" on someone else's update.
Type "@" and then begin typing a name in the box. You'll then see a list of potential people or companies you can mention.
Click a name you want from the list and continue typing your message.
Note: LinkedIn members outside your network can also be mentioned if they've commented on the same update.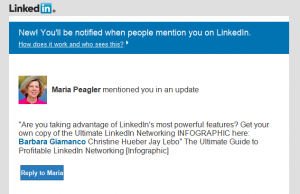 After you select someone from the list and finish your update, that person will receive an email that lets them know that you've mentioned them. The name will also be linked to a profile or Company Page from your update.
Maria mentioned me in her Status Update, and I received an email notification. Not only is it clear she is giving me visibility with her network of connections, but I have the opportunity to respond and thank her for doing so.
LinkedIn has certainly progressed since back in the day. As one of the first 1 million members using LinkedIn – number 874,098 to be exact, much has changed. In case you weren't aware of it, LinkedIn celebrated its 10th anniversary on Cinco de Mayo (that's May 5 for you gringo's). In 10 years' time, I've seen the platform evolve into a powerhouse sales tool. From the beginning, I believed that if LinkedIn could help someone secure that next career gig by harnessing the power of their LinkedIn network, it seemed obvious that the same principle would apply to sales.
Check out the new Mentions feature and keep me posted on how it is improving the engagement in your LinkedIn network. And remember that this feature is just the next in a wave of more to come. In an upcoming post, I'll write about what's coming with Contacts. You will be wowed!
P.S. Ask me how I know my LinkedIn member number. Do you know yours?