Recently, I realized that in every corporate social selling engagement we undertake, we are asked how "account managers" can use LinkedIn for service, support and sourcing new sales opportunities. The perception is that social selling only fits the "finding new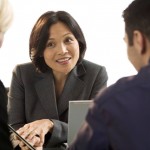 customers" side of the sales equation but doesn't necessarily have the value for account managers. Not so.
Your account managers need to understand their customers business, key initiatives and what products they sell. At the same time, they need to build and maintain strong relationships that are essential to closing more business.
But what happens when a person your account manager has a key relationship with leaves the company? That change can often have a detrimental effect on sales. Most account managers have strong relationships with a few people in the companies they support, but what they really need to do is to connect with as many people across the organization as possible. B2B sales tools like LinkedIn make that easy to do.
Here are 5 tactics that account managers can implement right now to deepen relationships and better service and support their accounts:
Follow Companies: LinkedIn gives your account managers the ability to "follow" up to 1,000 companies. As a homework assignment, have your account managers take their existing account lists, search out each company in the Company Directory and then click on the Follow Button to keep tabs on each organization.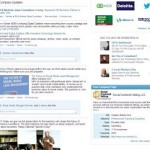 Daily, account managers can scan the "Followed Company Updates" to stay current with what their accounts are posting – blogs, key business announcements, job changes and promotions and new career opportunities. By paying attention to what companies are sharing on their page, your account managers can do more than "check in" to say hello. They can share business articles with key players in their network who may be a potential customer for their account, reference a new product announcement during a phone call, congratulate people on promotions, and introduce themselves to new employees and more.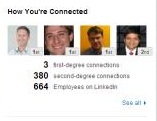 How You're Connected: When visiting a company page, are your account managers paying attention to that box in the upper right hand corner, which shows them how they are connected to people in that company?
Account managers can deepen their reach in accounts by clicking on the "2nd degree connections" to view a list of all those people they are currently not connected to 1-1. The same goes for clicking on the "Employees on LinkedIn", which then includes anyone from that company who has a LinkedIn profile. Their daily 5-in-15 account management selling strategy can include perusing the list(s) and inviting 10 or more appropriate people to connect with them. Invitations should always be personalized to introduce themselves as the account manager and to let the other person know that your companies do business together.
Products: Account managers can remain current on the products and services that their customers sell using the Company Products tab. The page list format makes it easy to review the information quickly. To take a deeper dive into a product or service, account managers can click on each offering to learn more. Savvy companies are also embedding videos on their pages to help visitors gain more insight into what they offer.
Insights: Accounts managers can use the Company Insights tab to quickly find out what's happening with the people. They will see the employees with new titles, former employees
and what companies they work for now, the most recommended employees, where employees were previously employed and note the companies that others also visit. Any change is a conversation or a sales opportunity. For example, an employee who recently exited the business may have just landed in a decision making role at a company on your teams target prospect list.

LinkedIn Signal: The old saying that "knowledge is power" remains true in today's information age. Your account managers must become adept Information Curators. Customers need to know about your products and strategies, but they are also chartered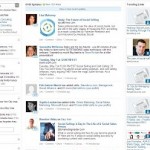 with staying abreast of changing circumstances in their market and industry. Found under the News tab on the main LinkedIn navigation toolbar, Signal is an overlooked gem for sourcing content and information. Your account managers can search the thousands of updates and information shares on LinkedIn, by using terms applicable to their customers' industry.
On a daily basis, your account managers can collect and organize the content into an informational presentation that they can deliver in a formal call to their customers each month. If your account managers are responsible for a particular industry segment, have them conduct webinars and invite all customers in that particular industry to attend. Customers will appreciate that their representatives have gone the extra mile.
What's the value of your account managers using social selling techniques to expand business relationships and source new sales opportunities in existing accounts? Priceless!