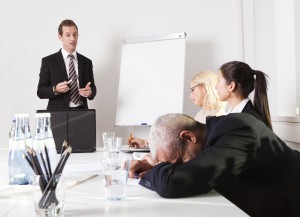 At lunch with a colleague last week, we chatted about how the sales people at his client account operate. Not surprisingly, it is standard practice during a sales meeting to walk prospects through 44-slides of yada, yada, yada that begins with extensive detail about the long, successful history of the company. Mind you, this is a company that is well known. The history lesson is unnecessary! Even when it becomes obvious during a presentation that the decision maker is bored out of their mind, the sales rep will simply keep plugging along. After all, they have been trained to "tell" not sell.
Let me tell you about our history.
Let me tell you about the awards we've won.
Let me tell you about the features of our products.
Let me tell you how we can solve your problem.
Let me tell you about our pricing model.
Let me tell you why other customers love us.
Let me tell you how we are better than the competition.
It isn't that these things are unimportant. Well, maybe the awards and history, but the fact is that this information is no doubt already listed on the corporate website. Prospects don't need sales people to tell them what they already know.
What kills me is that even in companies that have trained their sales people in a solution selling program, their sales people still show up in buyer's offices and tell. Sure, they may ask a few questions about the prospects business but then they roll right into the pitch they've been taught to deliver. Seems strange, right? Even those sales people trained to sell solutions still talk AT prospects not WITH them. Why?
Because…
More time is invested in training sales people about the features of products.
An investment in training great sales skills is viewed as a one time event and not a process that is continually reinforced.
It is easier than learning about the prospects business, industry and challenges.
Instead of using meeting time to tell, imagine your roles are reversed and YOU are the customer. As the customer, what is important to you? What business initiatives are you expected to execute upon? What will happen if you don't? Are you struggling to out pace the competition? What is happening in your industry that will impact your business today and tomorrow? The point is that unless you think like your prospect, you've done some digging or ask the right questions, it is going to be tough to know what is really important to them.
Here is a story to illustrate what I'm getting at. About 20 years ago, I was in the market for a new car. I'd first visited the local Nissan dealership and the conversation with the sales person was a disaster. Right up front, I detailed exactly what I wanted. In classic form, he didn't listen. He took me over to a specific model and started "telling" me why this would be a great car for me. As if he knew, right? Immediately, I say that I'm not interested. Undeterred, he keeps pushing all the features he believes to be awesome. Again, I say, I don't like the car and there is NO WAY that I would drive it. To which he replies, "What's not to like, my wife drives this same car." I couldn't run away fast enough.
Contrast that with the experience I had at the Infinity dealership right next door. The sales person was courteous, professional and asked about me. He asked about my work, what I was most interested in, any features important to me in a car… you get the picture. Learning that I was a sales rep who supported accounts in Tucson, he knew the drive between Phoenix and Tucson was a 2-hour long stretch of highway with practically nothing out there. He also learned that I'm a music lover. Rather than talking about the vanity mirror, he focused on safety and security by highlighting the roadside assistance program that came included with a car purchase. He had me try out the awesome stereo system. I already loved the car - a G20 - because it was sporty, looked upscale and was a dream to drive. And because this sales person had learned about Barb, he tailored his message to focus on what I cared about. Guess what - car sold. Most pleasant car purchase experience ever!!!!
The irony is that Nissan owns Infinity. What gives? Why a horrible experience with the Nissan rep but a stellar one with the Infinity rep? I asked my Infinity rep and he told me that the company invested many hours of training and constantly stressed (and reinforced) the importance of selling a solution based on the needs of the car buyer. Listening and asking good questions was a huge part of their training programs.
Stop telling your prospects (and customers) what YOU think they want to know, ought to know or should know and begin with the end in mind. If your goal is to win business, then begin by getting into the head and heart of your prospect. Buyers want to you care about them and when you don't… they simply look elsewhere.