My post about the Social Shake Up conference is getting a lot of play. That's good. My goal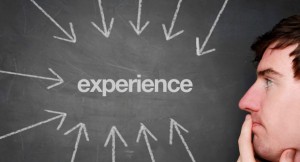 was and is to shake up traditional thinking about what social media means to business. During the Day 2 kick-off session with Brian Solis, he said it best when he said…"You cannot slap something new onto what is comfortable." In other words, you cannot do what you have always done – even if you use new tools – and expect a different result.
C-level executives have got to enter the discussion.
Social isn't a fad! Executives must first accept this one fundamental truth. Your business is being disrupted. How people make buying decisions has changed. In order to adapt to this new reality, companies must create a social business strategy that considers the "new" customer lifecycle from beginning to end.  Sales, Marketing and Service folks must break out of their silos, trash traditional thinking and work together to create an experience that wows from beginning to end.
Let go of what you think you know.
As with the technologies that preceded them, social, digital and mobile have continued to further evolve. Some of you are too young to remember that there was actually a time when we didn't text or communicate via email on our phones. We certainly didn't surf the web or talk to our friends on Facebook. Nope, we actually just used the mobile phone to make phone calls. Weird, I know.
These days buyers use multiple devices to remain connected – laptops, smart phones, iPad's, tablets and soon Google Glass. They can access news and information when and how they prefer to consume it. They do not rely on your marketing, PR or advertising to make their buying decisions. They gather information from multiple sources, and they rely on the peer reviews of others when making a decision to purchase or not. Why? Sorry, but they don't trust your pitch.
Social, digital, heck, the web in general has completely changed expectations of what buyers want from the companies who seek to gain a share of their wallets. And I believe that the number one expectation today's buyer has is that your company has to EARN the right to do business with them.
How do you earn that right?
By creating and delivering buying experiences that cultivate trust, loyalty and advocacy. Understand what your buyer cares about, speak to what is important to them, treat them with respect, honesty, transparency and fairness throughout the buying process, and they will reward you many times over. Keep talking at them or burn them when something goes wrong and in a nanosecond they will tell everyone they know to avoid you. This applies whether you touch the buyer as an executive, a marketer, sales person or customer service representative.
Though I have evangelized the importance of sellers using social media as part of their sales process, I have always believed that sales, marketing and service must be completely aligned when creating an overall experience that moves a prospect from interest to sale to happy customer. If any of the pieces are broken, you lose.
Do you know what it is like to try and do business with your company?
The irony is that most companies probably have no idea what it is like to be a potential customer. I think of one "big data" company who doesn't even use the data to qualify buyers. Instead, they put sales resources into having reps call anyone who attended their webinar. How do I know? I know because I run a small business and am not their target client. It did not matter. They had sales reps calling and emailing me anyway. This is a classic example of a customer acquisition process that wasn't thought through from beginning to end. I wish I could say that this was the exception rather than the norm.
If you are an executive, in marketing, sales or customer service, here is my challenge to you.
Pretend YOU are the potential customer. Go through every step of the buying process just as buyer would. Pick your website apart. Carefully review your social media marketing messages. Make a call to the sales department and experience what it feels like to have features, benefits and a product demo pushed on you. Reach out to customer service with a problem – phone, Twitter and Facebook. How was the problem handled? What was the response time?
Once you have done these things, rate the experience. Would you buy from your company? If your answer isn't a resounding hell yeah, that was awesome, you need to stop, rethink whatever you think you know and roll up those sleeves… you have work to do!