Earlier this week, I attended the Social Shake Up conference hosted by Robin Carey and the Social Media Today team. For a change, a major social media conference made its way to Atlanta.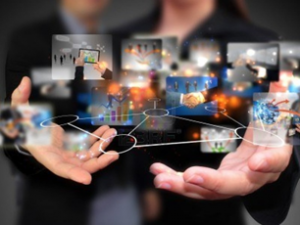 Our city is often overlooked for reasons that I don't understand. Some of the world's largest and most respected corporate brands are headquartered here. Names you will recognize like Coca-Cola, The Home Depot, UPS, AFLAC and Newell Rubbermaid being just a few of them. Oh, and my company is based here too!
We also have a thriving technology community with many promising start-ups poised to do big things. Fortunately for Atlanta, Robin has vision and decided that the ATL was the destination for her conference. Thank you, Robin!
I'm contributing this post to the Sales Thought Leaders blog, but honestly, my thoughts, comments and observations are for business leaders at all levels.
I have to say that the biggest thrill of the conference was finally meeting a cadre of people that I've known online for some time. When I think about how social media has completely collapsed the world – in a good way – it is amazing how many people you develop personal and professional relationships with before you ever, if ever, meet them in person. I hung with a gang of rock stars (they know who they are!), and I learned from their perspectives and insights about social media's impact on business.
Now the things that I would change…
The promise of the conference agenda was to "shake up" thinking about social media and the impact on business. In fact, the conference promotions even said that content would focus on more than marketing. In large part, it did not. And even though the presentations were good, nothing earth shattering or ground breaking was presented. To be fair, with multiple sessions going on, I couldn't attend them all. Maybe someone was gobsmacked in another room, but as I talked to colleagues it seemed the general impression was that the focus was marketing oriented.
The opening keynote was weak and highlighted the good, the bad and the ugly about marketing in this new age of digital. I felt it set the wrong tone. Frankly, I would have led with Brian Solis, who keynoted Day 2. If you are going to shake it up, start with talking about Social Business as your strategy not social media marketing tactics.
Content light on sales – 1 pre-workshop, which people paid extra to attend (I was on the panel) and 1-panel/case study with IBM's inside sales team leaders. Out of 38 sessions, only 1 main session on the conference track for sales.
Marketers largely don't understand the sales side of the business. They should stop acting like they do. In one session on customer engagement, I asked how the speaker's company was empowering sales people to use social to educate, influence, engage and develop potential customer relationships in new ways. The answer? We helped them clean up their LinkedIn profiles, and we cue up offers for them to share. Really? Offers? That's it?
 Yes, Dorothy, like most things in business, work is required. One somewhat arrogant panel marketer turned consultant expert said it was "hard work" and you shouldn't expect sales to take that on. What? I don't believe in being rude but I wanted to say, stick to marketing girlfriend; you have no idea what you are talking about. Sales people MUST learn to incorporate social networking strategies into their sales process or the competition will eat their lunch and prospects will pass them by.
Content light on customer service. Even those sessions that purported to focus on the customer actually did not. The community sessions were good but the overarching focus was "marketing" and "content". I thought the best customer session was the one entitled Throwing Open the Floodgates: Empowering Employees. The panel shared some great insights into how to turn employees into online advocates and brand ambassadors for their companies. The overriding message was to have a process, give employees training and support and let them go.
More tactical than strategic. We have to stop talking about creating a "socially enabled enterprise" but then default to social media marketing tactics. The conversation is not happening at the right level in most organizations – the C-Suite. Social and digital media affects the "business". Does your organization have a Social Business Strategy? Or have you simply put marketing in charge of driving the bus?
Leaders at all levels need to ask themselves, how are sales, marketing, service and even the finance department aligned to a Social Business Strategy that focuses on the customer experience? Marketing might crank out a great offer, but what happens when customer service is overwhelmed and cannot keep up with demand? How will you handle the ensuing backlash when customers feel they are not getting support through traditional channels – as happened to me this week with Comcast – and go online to seek out help but no one bothers to respond?
Next year, I want the conference to "shake it up" by targeting the C-Suite executives. In large majority, attendees were marketers mixed with some sales and service folks. If you consider that far too many executives still think social is a fad, or that social is merely a function of the marketing department, we have a widening gap between how customers buy and what they expect and what companies deliver. Until addressed at the highest level, the problem is only going to get bigger.
Executives need to get engaged. They need to attend next year's conference, learn and have their outdated assumptions challenged. And we need sessions that walk these executives through the why and how of creating a Social Business Strategy that drives customer experience at every level. Until then, you can talk about shaking things up all you want but all you are really doing is slapping lipstick on a pig.