Today's social media-oriented climate has redefined the way people communicate and
interact. It's also changed the way buyers operate in the marketplace. Unfortunately, as a whole, sales professionals have been slow to embrace the new technology.
Social Selling is now becoming a way of life, but are you as a sales professional keeping up? BUY the book on Amazon.com. Also available in Kindle.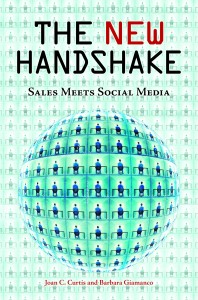 In The New Handshake: Sales Meets Social Media, coauthors Giamanco and Curtis present Sales 2.0, a significant expansion from selling via the traditional face-to-face or telephone sales methods. The book begins by examining the impact of the communication revolution on sales as well as the history of selling.
It contains case examples that justify incorporating social media in business.
The final chapters of the book describe each social network, explain how they work, and create a road map for a social media sales strategy—including how to empower salespeople to overcome their resistance to change.
"This book helps you think about how you can reinvent your approach and yourself to reach customers and be as effective as possible." Anonymous Reader
"I plan to buy at more copies as gifts for my fellow bloggers, social media-ites and biz buds who are always looking for new ways to advance their careers." Edith Bosworth
"My challenge would be to read this book and give the 30 day challenge a real effort with an openness to change." - Chris Rollins, The Conductor