At the first of the year, I talked about what I believe lies ahead for the profession of selling. At least in 2014. More of the same dismal sales results we've seen for years can be expected IF teams simply do what they've always done.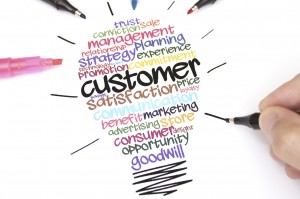 Optimistically, I'd like to believe that sales leaders will step up to radically change how their sales organizations operate. Having finally accepted that "coffee is for closers" sales tactics have dulled in effectiveness, leaders will expect their sales people to do more than pitch and passively wait for orders to roll in. This is the year that leaders will invest in developing the business skills of their team members and the sales process that they follow. Why? Because buyers expect more.
And yet… revenue success requires so much more than simply making improvements in the Sales department.
We've been talking about Buyer 2.0 and Social Selling for so long now that it is becoming a big yawner. For me anyway. In the years since I've been evangelizing social for business and the three years since my book The New Handshake: Sales Meets Social Media was published, I'm surprised at how basic today's conversations related to social media marketing and social selling remain. If I read one more blog post from an expert telling sellers how to "tune up" their LinkedIn profiles or create a lead search, I might have to hang myself. By now, if you are a seller and it has completely escaped your attention that buyer behavior has changed, or that leveraging social strategies as part of your sales process is not an option, well then, you might as well retire now.
Let's get beyond today's social selling conversation.
Buyer expectations are not standing still. The bar is rising - and fast! Buyer 2.0 made it clear that they were circumventing the early stages of what we formerly knew as the traditional sales process. Crappy salesmanship made it inevitable that this would happen. The Internet, social networks, peer reviews, data at our fingertips and word of mouth recommendations have made it possible. Buyer 2.0 wanted to work with a different kind of seller entirely. One who understands their business and functions as an advisor not an order taker. As Jonathan Farrington of Top Sales World puts it, customers and prospects are still marching, but not to your drum.
Buyer 3.0 has expectations that go far beyond what current social selling rhetoric largely focuses on. This buyer expects companies to WOW them with great experiences at every touch point in the process of moving them from prospect to customer. A go/no go decision can happen with the first marketing email they receive, webinar they attend, your cumbersome and complicated phone system, or your over eager sales reps hounding them after they downloaded a white paper. Every interaction - positive and negative - leads to revenue or not. And if you think that once a customer always a customer…think again. Most companies are not taking the idea of creating WOW experience seriously enough.
Revenue goals aren't achieved by sales alone. That's the big fat elephant in the room. Sales may carry the quota and the bag, but other functional departments - Marketing, Service, Operations, Accounting - play a big role in a win or a loss. Rather than expecting Sales to shoulder the entire burden, I crazily think that all executives, department heads and employees need some portion of their performance and salary tied to revenue goals. It isn't enough to assume that people will do the right thing because they earn a paycheck.
Let's stop talking about the tactical aspects of "social selling" - great profiles, status updates, search lists, sales research - as if that's all it takes to succeed in today's competitive business environment. Don't misunderstand me. These things are important but they are a fraction of the bigger picture.
If you thought that Buyer 2.0 came out of nowhere, watch out. Buyer 3.0 is demanding more, and they know what you fail to recognize…your company isn't the only game in town!