Social Media Consulting & Training  |  Sales Consulting & Training  |  Keynote Speaking
Social Media Consulting & Training
For sales organizations to succeed in today's business environment, they must first accept that buyer behavior has changed. Buyer 2.0 is web savvy, informed and probably knows more about you than you know about them. In this new world, sellers must shift from a transaction approach to a solution-oriented, value focused, and socially connected approach.
The Challenge
Sales organizations have so much to think about and get right. Among the many complexities of the sales process, you know you need to leverage social networks to reach target buyers and shrink the sales cycle. The question is, "How?"
The Solution
Using the power of social media, we work with your sales team to build on and leverage their existing relationship networks to identify the right influencers, create new lead opportunities, demonstrate value to prospective buyers, deepen account penetration and do the research that selling to today's buyer requires.
Why Social Attempts Often Fail
Companies fail with social media (or experience lackluster results) because they jump straight to tactics and onto the technology platform without determining their strategic purpose and approach for engaging with potential customers online. There's no training and a repeatable process is not established. Finally, without establishing measurable outcomes, it is impossible to monitor and track the return on investment of social media activities.
Our Approach
A successful social media project includes five core elements:
Assessment
Strategy
Training
Implementation
Measurement
Many companies focus on one or two areas and never achieve the desired results. For example, training without a strategy is merely a tactical event unlikely to lead to much change in achieving revenue goals.
Every client is different, so we work collaboratively to establish objectives and set measurement criteria that best align with the organization's stated goals.
Sales Consulting & Training
With a projected 48% win rate on forecasted deals and the outlook for making 2012's revenue goals as dismal as it has been in past years, what can sales management do to increase win rates and improve other key sales performance behaviors in this fiscal cycle?
At Social Centered Selling, we believe the answer is in ensuring that your sales organization has the best trained sales people capable of adapting to today's buyer – Buyer 2.0. Our work with sales organizations helps to increase revenue and drive extraordinary results through the integration of a social media strategy with a sound sales process, sales methodology, and approach. Leveraging social media technology, however, is only a part of the equation when it comes to increasing revenue.
The Challenge
Today, there are higher level executive relationships to establish, more information to absorb quickly, and salespeople have to move faster than their competition. How do you and your sales team create, maintain, and leverage relationships at executive levels and communicate your value as a credible strategic resource?
Why Sales Training Programs Fail
For any sales training program to be successful it must be fully owned and endorsed by sales leadership and be given ongoing support. It's cultural. Effective sales training is a continuous process focused on teaching new skills, reinforcing desired behaviors, and converting these behaviors to habit.
The Solution
Sales management must have the right salespeople with the right skills on their team. To accomplish this, our approach incorporates four elements crucial to any successful sales training program:
Assessment & Strategy Building
Program Implementation & Salesperson Training
Reinforcement Coaching
Measurement
As a compliment to our ongoing Social Centered Selling training program we offer two intensive single day workshops:  an opportunity management program and tool called Sales Opportunity Snapshot™ (SOS) and SellXL™, a research based sales performance methodology. These workshops seamlessly integrate and are designed to help salespeople objectively qualify deals quickly, shrink the sales cycle, greatly improve forecast accuracy, win more profitable business, and quickly and effectively communicate the status of each sales opportunity to others in the organization.
This program is also designed to be easily replicated for new hires. Your end result is the ability to drive measurable and sustainable performance improvement for each salesperson in your sales organization.
Keynote Speaking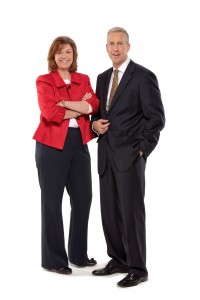 Engage us for your next sales conference, quarterly or team meeting and your participants will leave the room with practical information about how to adapt to today's buyer and leverage social media to drive specific sales results. Each presentation is based on your unique business goals, and we adjust during the presentation, as appropriate, to ensure that the needs of the audience are met.
Barbara Giamanco is a sales veteran who knows exactly what it takes to close a deal. Throughout her 30-year career, she has sold $1 billion in products and services, and she knows exactly what's it's like to live life by a quota. Co-author of The New Handshake: Sales Meets Social Media, Barbara is an experienced sales and social media consultant and coach and was recognized by Inside View as one of the Top 25 Influential Leaders in Sales. A sought after speaker, Barb speaks frequently on the topics of social media and the new world of social selling. She has keynoted executive events and facilitated programs with thousands of executives who consistently rate her as "exceeding their expectations."
Kent Gregoire is an experienced sales consultant and speaker. He has more than 20 years of experience helping organizations supercharge sales efforts by delivering training and employee development activities that utilize proven research-based methodologies. Kent founded and served as CEO of more than a dozen fast-growth companies and continues to leverage his expertise in leadership, planning, business development and sales to assist a strong base of client executives and their companies. Through webinars, on-site workshops and coaching, Kent and the SCS team helps sales professionals to become sales leaders, with a sustainable competitive advantage in accessing and influencing senior level executives in their purchasing decisions.