Recently, I sat down with Joanne Black author of No More Cold Calling to talk about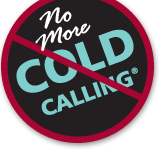 referral selling that drive revenue results. Referral selling is probably one of fastest ways to speed up those sales cycles, yet, as you'll hear in my interview with Joanne, it is an area in which most salespeople desperately need help.
During my conversation with Joanne, we talked about…
Why referral selling is so much more effective than other methods.
How referral selling helps salespeople be more competitive in a tough marketplace.
How referral selling compares with other prospecting techniques such as cold calls, direct mail, advertising, etc.
Why more salespeople are not using referral selling in their day-to-day sales practice.
How social media can be used to generate referrals.
As I always do when interviewing top sales leaders in their fields, I learn something that I can put into practical application myself. My take-a-way from Joanne's interview is that "referral selling" must be top of mind and something that you do consistently. If you follow Joanne's proven process, you will find yourself dealing with more business than you can handle. And that…is a very good thing!
LISTEN TO THE INTERVIEW.