As long as I've got the subject of time on the brain, I thought I'd write a post about the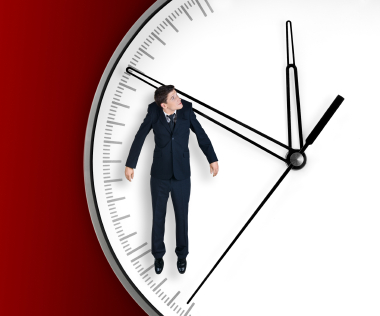 biggest objection that I hear from salespeople with respect to using social media as part of their sales routine.
"I don't have time".
That always gets me a little riled, because it says to me three things. One, they haven't accepted that social media is as critical to their sales business, as email and smart phones have become. Two, these reps still believe that running around to lots of networking events is what gets them the greatest return on their effort even though, at most of those events, their buyer isn't even in the room. Three, they don't understand how to use technology to their advantage.
Adapt or fall further behind.
Whether you like it or not, buyer behavior has changed. Your sales approach needs to change too. Buyers do a significant amount of research online before ever engaging with a salesperson. Can they find you? And, if they do find you, is the information that you've shared on your LinkedIn profile (as an example) compelling enough for them to want to talk to you at all?
I know, I know. You never thought we'd do business over email either. Well, you were wrong. You are wrong about social media too! Every day business is being transacted over social sites. Unless you want your competitors to step up and kick your bootie, it's time to move.
Ok, so let's talk about those networking events.
When is the last time you carefully evaluated if the events that you are attending is netting you any sort of sales return? In general, you can choose to attend events for two reasons. One, you want the education, because you think the speaker is going to be awesome. Two, you are going to make connections with people who can buy your products and services. Let's hope that most of you are using your networking time focused on #2. But here's the problem. Buyers aren't spending time at networking events like they used to. A friend of mine - he's the decision maker for the technology providers who get in at his company -  tells me that not only does he not spend much time at networking events anymore, he also doesn't carry business cards to the ones he does attend. Buyers aren't showing up, because they are tired of being pitched by sellers. Why are you spending so much time there?
What to do?
Free up some time by cutting out events you know aren't getting you connected to sales opportunities. Spread that time throughout the week and use it to share content, post updates, research your target list of prospects, etc. using LinkedIn, Focus, InsideView, Facebook, Twitter, blogs, whatever. You can create some serious opportunities working social just 30-minutes a day. I know, because I do it. The key is to have a plan and know exactly what you want to accomplish.
Finally, use technology to your advantage. Unless you enjoy posting on LinkedIn, then jumping over to Twitter or your Facebook page, use Hootsuite as your social media dashboard and content organizer. Hootsuite's free version lets you connect to five social media sites and/or RSS feeds. Got a blog you like to follow? Curate the content by setting up the blog RSS feed in your Hootsuite account. Every time a new post is published, a message shoots out from your account to your various social media sites. From your Hootsuite dashboard, you can send messages to LinkedIn, Twitter, Facebook, etc. and you can monitor the conversations from there as well. And, you have the ability to schedule messages in advance.
So, stop making excuses.
You do have time to integrate social media into your sales activities and like any change to the way that you do things, you have to decide if you will spend time on the activities that actually lead to sales - or not.