Great selling skills never go out of style and while the current buzz around "social selling" may cause you think that what's used to work has no relevance anymore, you learn in my conversation with Lori Richardson that integrating technology into your sales process is only one small piece of a successful selling equation.
It is not uncommon for salespeople to have "good conversations" with a potential prospect and think that they now have a qualified sales opportunity. Not so fast, says Lori. She shared with me her Scoring Matrix and the criteria she uses – and teaches her clients to use – that truly determine if a good conversation is worth further sales time investment.
A gold mine of great sales tips can be found in my conversation with Lori, so let me tell you about her.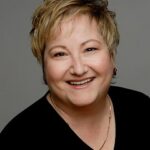 Lori is the CEO and Founder at Score More Sales and one of the top sales influencers in B2B selling worldwide. She spent 20 years in sales and sales leadership roles in financial services, technology, and distribution companies working for IBM, Apple, Hewlett-Packard and Thomson Financial (now Reuters). In 2003 Lori launched Score More Sales, a sales consultancy that helps smaller mid-market companies grow front-line sales revenues. Lori teaches, trains, and consults on sales skills, sales tools, and soft skills helping sales reps and sales leaders turn efforts into dollars.
Lori also blogs for high visibility brands such as IBM Mid-market. She is the author of four books and will publish "Insight Sales", a book for inside sales professionals, in Sept. 2013.
When you listen to my conversation with Lori, you'll learn:
The changes that Lori has seen in sales through the years.
How some great sales practices never go out of style.
How Lori's approach to teaching her clients to sell more effectively is different from others.
How sales leaders and their teams are responding to integrating social selling into their sales practice.
Advice for sales leaders who feel overwhelmed with so many things to be conscious of and get done in today's 24/7 wired world.
Lori's TOP prospecting tip.
What sales reps need to consider and follow up on first when they have a list of opportunities in front of them.
And more…
Enjoy the interview!