I'm on a productivity quest. To focus on the most important revenue activities each day, I need the right processes in place to ensure maximum efficiency. For me, it is an ongoing evolution in how I work. Unlike many in the sales industry who are proud of their burgeoning tech stacks, I'm focused on reducing mine. As I wrote about in a recent blog post, more of anything isn't necessarily the answer to solving challenges facing sales teams today. More technology doesn't guarantee improved lead generation, an increase in qualified opportunities in the pipeline or shrink the time it takes to close deals. I believe it is the combination of the right technology, process and selling skills that lead to achieving quota objectives. So, for me, less is more. That's where HubSpot Sales comes in.
Where I started.
I started with HubSpot CRM, which I've been using for over a year now. After testing just about every CRM out there, I settled on HubSpot for its power and ease of use. As much as I love technology, I feel that many CRM solutions being sold today are just too complicated. I want to know about deals in the pipeline, stages of the deal progression, why I won or lost deals, and I want tools that make it easy for me to reduce administrative time, capture sales conversations, track emails and follow a consistent cadence in my sales prospecting and follow up.
I love HubSpot Sales.
While HubSpot CRM is pretty awesome, knowing what I know now, I would have started with HubSpot Sales to capitalize on the advanced sales features from the start. I suggest you start there too. HubSpot Sales includes the free CRM. Since I wanted to create a more robust sales process, and I wanted to reduce the number of other technology tools I was using, moving to HubSpot Sales has helped me achieve that goal.
Check out the Email integration and tracking feature.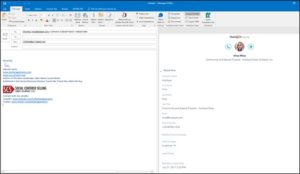 Since we all still live in email, I love that HubSpot Sales connects to your Inbox. The moment I start a new email and pop in a prospects email address, HubSpot Sales opens a dialog box to the right of my screen and instantly creates a contact record. The new record is populated with contact details, company information, revenue, social media profiles and more. I don't have to hunt down the details and type them into the system. It works the same way if I receive an inbound email from a potential buyer too. Anything I need to quickly add, say the name of a referral source, I type that in and save the contact. The manual data entry is minimized, and I have saved so much time with just this one feature. You'll love that apps you likely use today are supported, such as Office 365, Outlook, Gmail and GSuite.
Because every email interaction is then tracked, I can view a timeline in a prospect or customers contact record to keep up to date on how our conversations are progressing. I also know when someone opened the email, which helps me know that my messages are being not just received but read.
Save time with these additional HubSpot Sales features.
With the new Messages feature, I can see who visits my website in real time, how often they visit, what services they appear to be interested in, chat with them live or give them the ability to book time on my calendar to talk to me.
With the Meetings feature, I easily ssetupdifferent meeting types based on meeting length and whether that meeting will be by phone or face to face. I can embed that code on my website or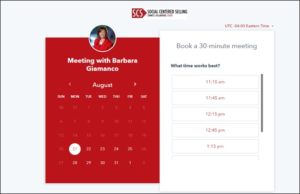 include the link in emails making it easy for people to schedule time with me. I love that both features are integrated with HubSpot CRM. In other words, if someone books a meeting using my meeting link, it is automatically added to their contact record. If this is someone who has come inbound to me and not in my CRM yet, once they schedule a meeting, a record is created without me having to do anything. My other tools didn't integrate with CRM. Thanks to these two features of HubSpot Sales, I got rid of the other tools I was using. My sales process is better streamlined, and I saved money in the process.
Stay tuned for more.
In coming posts, I'm going to talk about other HubSpot Sales reporting capabilities, productivity tools and how they help me reduce wasted effort and improve my sales results. I'll share with you how I've automated my outreach while not sacrificing personalization using Templates. In the past two weeks since setting up my custom templates, I have saved hours of time. You'll also find out why I love the Sequences feature and how to turn your Documents into trackable links enabling trigger prospecting and follow up at its finest!
Get started with a FREE TRIAL Get yourself set up and come back and share your success stories with me!