Today, in addition to being a brand, we are all now publishers of content. Every tweet, blog entry, Facebook post, LinkedIn status update…it is all content that you want to leverage as elements of your sales and marketing strategy.
Over on Beth Kantor's blog, she says the three threes of content curation are: Seek, Sense, Share. It is important to think about the process in this way because each are integral to your overall strategy of gathering and sharing content that is relevant to your network. In the graphic that Beth created, she does a nice job of breaking down what the elements of the process at each stage are.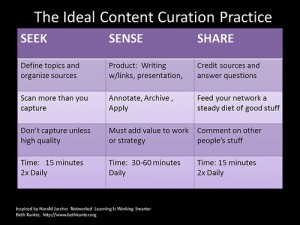 First, you need to find great information to support the personal brand objectives you've set for yourself. What I mean by that is to make sure that the information you choose to share is consistent with how you want to represent yourself.
Curating content that will provide value to the prospects you are targeting is a great way to demonstrate credibility in your role. You don't have to write everything yourself to be viewed as credible. You can surround yourself with industry experts and their content. Of course, it is important that it compliments yours. Learning to curate content well helps you to position yourself as a go-to business resource. That gets you noticed!
Next, you want to make sense of the information. How can you add your unique twist to a tweet or a blog post? What sources will you use to create a blog post based on the information you've uncovered? For example, I searched out sources on content curation so that the post would have more depth.
Finally, you need to share the information. To help to streamline the time investment you need to make to get your content out there, you'll want to choose tools and put a process in place to help you. I'll talk more about that in just a moment.
Content is both Queen and King. As content is refreshed, it keeps you more visible to your networks, increases search engine rankings to your website or blog and positions you as someone staying on top of news, trends and people in the minds of your prospects.
Where do you find the right type of content to curate?
That's a great question and it leads me to talk about tools that you can use to kick your content curation activities into gear.
First, start by creating a list of the most important business topics that you want to be known for. For me, it is sales, social media, technology and business. Then you want to create a list of the people that you admire, who would also lend credibility to what you are doing, so that you can share their content also. By the way, some people only want to share their own content and that's fine. It's also only one perspective. When you surround yourself with other known thought leaders, your credibility is elevated.
Now to the fun part…here are several technology tools to help you pull all of this together.
Twitter lists – According to Twitter, "A list is a curated group of Twitter users. You can create a list or subscribe to lists created by others. Viewing a list's timeline will show you a stream of Tweets from only the users on that list." I can create a list of the top women in sales and once my list is created, I can easily scan to determine what tweets I'd like to share of theirs with my network.
Paper.li – have some real fun and create your own newspaper(s). This is a project that has been on my list for some time, and I yesterday, I finally set mine up. You can add news sources, people and RSS feeds from blogs you like. Paper.li does the work laying out the content in a magazine format that is appealing to the eye. The free version is pretty cool but you do have ads on your pages. I decided to spring for the $9 a month to remove the ads. Check out my newspaper:  Social Sales Talk
Storify – nifty tool for creating summaries, such as the recap of the Sales 2.0 conference. Here's the morning recap from the conference. You can summarize your thoughts and then include supporting tweets or video to your story. I just started working with it. Pretty cool stuff!
Hootsuite – I've used the Hootsuite dashboard to manage my social accounts for quite some time and love it. With the free version, you can track and manage five social networking accounts and or RSS feeds. I manage my Twitter accounts, Facebook pages and LinkedIn profile and our company page all from within Hootsuite. Because I also like to share content from other popular bloggers, I have an upgraded account to accommodate more RSS feeds.
Pinterest – this is a great tool for curating your visual communication. You create boards based on interest or business products and services. After a board has been established, you simply begin adding pictures to your boards. I have boards that are for business, and I share information about social media, technology, business tools we use, etc. I also mix up the fun with some personal boards about food and wine, animals and travel.
Facebook fan page – You fan page content shouldn't just be all about you. Sorry, but that begins to feel like a thinly veiled sales pitch and it gets boring fast. Mix it up with relevant business information that you community of followers can benefit from reading. We mix in other bloggers content, news articles, videos, pictures and more. As noted earlier in the post, who you surround yourself can also elevate your credibility.
When I think of all the technology changes during my past 29 years in business, it is amazing how far we have come. Our ability to provide value to prospects in advance of sales opportunities in such amazing ways blows my mind. If you want to stand out in the mind of your prospects and crush your competition, learn to be a curator of information. Content curation gives you the ability to let your creativity and inner publisher break free while solidifying your position as a thought leader in your field.
So…
What's stopping you?
P.S. no sooner had I published the post, I came across another tool that looks cool. http://www.curate.me  I'm setting up a page now.