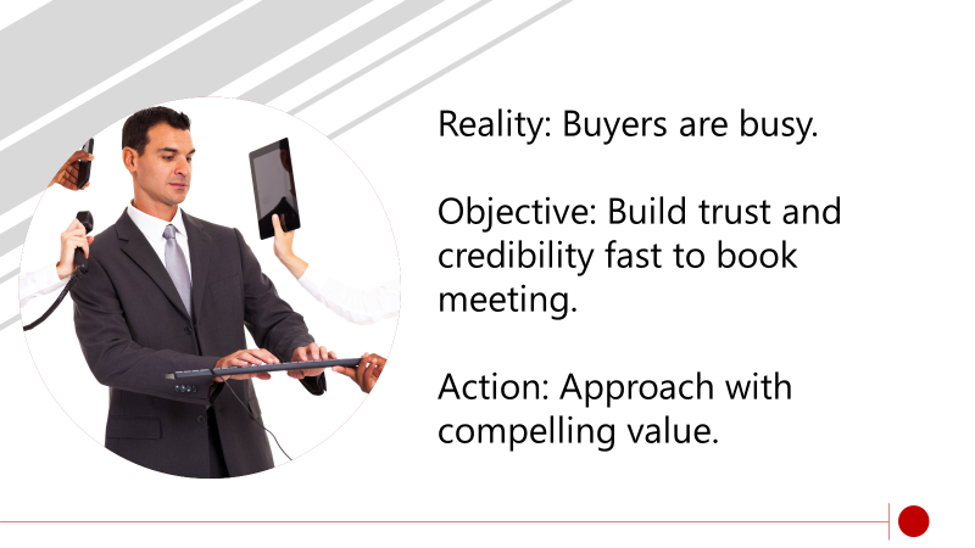 On occasion, I'm asked how I come up with topics to write about for my blog or magazines. If you don't do a lot of writing but thinking about it to give your personal brand a lift, it is a fair question. My suggestion is to write what you know about and/or watch for everyday events to inspire you.
That is what leads me to today's post.
Anyone who has known me 5-minutes knows how much I detest sales spam. The sales profession still has an image problem and spamcasting complete strangers in a desperate attempt to get them to buy something from you doesn't help things. With a personal mission to ignite sales transformation, I hope to stop this madness one salesperson at a time, if that's what it takes.
The spark for this post happened because Dan Cilley over at Vendor Neutral connected me into a LinkedIn conversation started by Lisa Hunt at SPARXiQ. This was Lisa's question:
"Fellow marketers, on a weekly average, how many connection requests or sales emails do you receive from LinkedIn lead generators? One? Five? Three a day? What makes one stand out above the others or do they all sound the same? Do you accept all the connection requests?"
Oh boy, did I have an answer.
As someone who's made their career in sales, I'm a harsh critic when it comes to my opinions about the rise of so many "LinkedIn lead generation experts" or typical lead generation experts in general. Most of them, frankly, suck. If how they approach me to sell their service is how they would represent me or my brand, no thank you.
Most of these people all say the same thing. In many cases, these are automated bots doing the prospecting. It might be on behalf of the salesperson's company, OR WORSE, the person might be doing it for a paying client who likely has no idea how badly they are being represented.
Plus, I'm their competitor.
Full disclosure. I do consult with companies and coach salespeople on their lead generation strategies. The difference is I don't spam people, I don't sell automation services that do spam people, and I don't call myself an expert. I'm wary of people who do.
Do I have sales and sales leadership experience? Yes, I certainly do, and I've learned enough over 25+ years selling to know what works and what doesn't. As buyer behavior has changed, I've continued to adapt. I've talked with thousands of buyers who consistently say that email and social media spam from strangers is simply ignored and deleted. While you think you might be getting some traction from all that spray and pray activity, your prospects aren't giving you a second thought.
It is bad enough that so many salespeople desperately believe in sales short-cuts, much of the time they are spamcasting people who don't even fit the ideal buyer persona for their product or service. In my case, I receive dozens of LinkedIn requests and pitches from my competitors.
I get it. You think you don't have time.
I can see the eye rolls and hear the groans now. I don't have time to personalize you might be saying to yourself. It takes too long to look at the LinkedIn profile of every person I plan to email or call. Maybe you mistakenly believe "experts" who say it's a numbers game, that personalization doesn't matter that much.
It does matter. A lot!
Seriously, WHAT DO YOU HAVE TIME FOR if not for being much more successful booking appointments with your target prospects?
Do you enjoy the idea of missing your quota?
Do you like your sales manager hounding you because your opportunity pipeline looks suspiciously like a ghost town?
You might be doing a lot of activity to keep your sales manager happy but checking the box on your to do list won't be enough if the activity isn't leading to more booked sales calls.
No sales calls. No revenue.
Have a process and make it a success habit.
In the end, which approach is better?
Spamming 200 people a day with most of them never responding
OR
creating a weekly list of high value targets – say 100 – and getting 50% of them or more to book time with you?
Zero sales meetings booked in a week versus 50 or more yeses to meet with you. Your choice.
About that process. I have three words for you – batch your work. Before you show up each Monday morning, follow these steps:
Create your target list of 50 of one buyer type and one industry. Let's say VP of Sales with at least 100 salespeople in their organization in technology companies.

Do some homework and decide on three problems or challenges VP's of Sales are trying to solve. Examples: hiring the right talent, reducing the time it takes for new reps to generate revenue, or increasing the number of qualified sales opportunities in the pipeline.

Take one of those problems and think about how you can turn that into a short message of 150 words or less that you send to those 50 people using this approach:
Purpose. Focus on a known problem the buyer has. Remember, buyers only care about what is in it for them.
Main point. Two sentences or less that tells them how they might benefit from knowing how others are tackling the problem.
Call to action. What do you want them to do next? Suggest 3 dates/times for a call is an example. DO NOT include a calendar link if you have no relationship with them yet. That's making the buyer do your work and that's lazy.
Wrapping it Up
Random lead generation doesn't equal revenue, but focused outreach with the right message does. Better yet, of those 50 people on your hot list, who do you know that can make an introduction for you? Referrals fast track your sales meeting acceptance rates. If you want to learn from the best in this area, talk to Joanne Black. There isn't anyone who knows Referral Selling better than Joanne!
Check out my Conversations with Women in Sales interview with Joanne: Scroll down to Episode 58