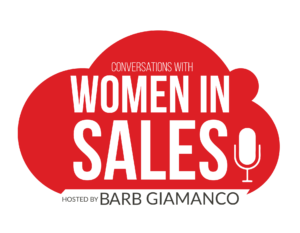 Conversations with Women in Sales is a podcast dedicated to becoming the best resource in the world for female sales professionals.
Every episode features women in sales roles doing incredible work in corporations around the globe. And, it just happens to be the ONLY podcast dedicated to women in sales!
Each guest will tell you why they love the sales profession and share practical advice for adapting to current and future trends in sales, plus how they inspire themselves and others to be the at the top of their game every day.
For those women looking to advance into leadership positions, you'll hear from guests who have done it, as they candidly share their personal advice on how you can do it too!
Topics include leadership, career management, social selling, overcoming adversity, sales and marketing alignment, B2B sales, strategic partnerships, buyer personas, account based selling, content creation and promotion, social media, and more.
Apple Podcasts  – Please subscribe so that you never miss an episode! Write a review for the podcast if you like the interviews.  Spotify  Stitcher  Google Play   
You can also find the interviews on the Women in Sales Hub.
Thanks to our Sponsors!

This podcast is presented by our Elite Sponsor, Microsoft. Corporate Vice President and Channel Chief Gavriella Schuster, along with other female leaders in the company, are driving for change, trying to bring more women into the technology industry. Gavriella and Microsoft are committed to giving "young women better role models and a stronger voice to all women." You can hear more from Gavriella and other Microsoft leaders, on the Microsoft Partner Network podcast. Or visit partner.microsoft.com 
Women Sales Pros has a vision for more women in B2B sales and sales leadership roles where there are currently male-majority sales teams. We help educate companies on how to do this, and we champion women on what a professional sales career can be. We also showcase the very top women sales experts who are speakers, authors, consultants, trainers and coaches. Get updates HERE and follow us on Twitter and Instagram at @WomenSalesPros

Want more great content like you get on The Conversations with Women in Sales Podcast? Check out The Sales Experts Channel for 500 presentations from 150 global sales experts, all in one place. Always free, always fabulous. Don't miss another minute! Subscribe today to The Sales Experts Channel.