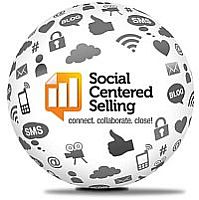 For sales organizations to succeed in today's business environment, they must first accept that buyer behavior has changed. Buyer 2.0 is web savvy, informed and probably knows more about you than you know about them. In this new world, sellers must shift from a transaction approach to a solution-oriented, value focused, and socially connected approach.
THE CHALLENGE
Sales organizations have so much to think about and get right. Among the many complexities of the sales process, you know you need to leverage social networks to reach target buyers and shrink the sales cycle. The question is, "How?"
THE SOLUTION
Using the power of social media, we work with your sales team to build on and leverage their existing relationship networks to identify the right influencers, create new lead opportunities, demonstrate value to prospective buyers, deepen account penetration and do the research that selling to today's buyer requires.
the challenge
Today, there are higher level executive relationships to establish, more information to absorb quickly, and salespeople have to move faster than their competition. How do you and your sales team create, maintain, and leverage relationships at executive levels and communicate your value as a credible strategic resource?
WHY SALES TRAINING PROGRAMS FAIL
For any sales training program to be successful it must be fully owned and endorsed by sales leadership and be given ongoing support. It's cultural. Effective sales training is a continuous process focused on teaching new skills, reinforcing desired behaviors, and converting these behaviors to habit.
THE SOLUTION
Sales management must have the right salespeople with the right skills on their team. To accomplish this, our approach incorporates four elements crucial to any successful sales training program:
Assessment & Strategy Building
Program Implementation & Salesperson Training
Reinforcement Coaching
Measurement
This program is also designed to be easily replicated for new hires. Your end result is the ability to drive measurable and sustainable performance improvement for each salesperson in your sales organization.
Many companies focus on one or two areas and never achieve the desired results. For example, training without a strategy is merely a tactical event unlikely to lead to much change in achieving revenue goals.
Companies fail with social media (or experience lackluster results) because they jump straight to tactics and onto the technology platform without determining their strategic purpose and approach for engaging with potential customers online. There's no training and a repeatable process is not established. Finally, without establishing measurable outcomes, it is impossible to monitor and track the return on investment of social media activities.