Social Centered Selling is your strategic partner for demand and lead generation strategies and programs that improve sales results. Our customers include some of the world's most forward-thinking and innovative companies not content with sticking with the status quo.
93% of B2B companies say content marketing generates more leads than traditional marketing strategies. –Forbes
Opportunities to Work Together Include:
• Create and Host Corporate Webcasts
• Host Corporate Podcasts
• Keynote Speaking
• Guest Blog Posts and Articles
• Sponsor our popular Razor's Edge Podcast
Simply put – we deliver results! We under promise and over deliver. We have 25+ years of sales, marketing, and technology experience along with 12+ years working in social media. Our customers are some of the most innovative and forward thinking in the world.
Barbara Giamanco, Founder and CEO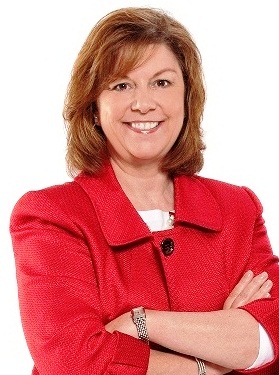 After 25+ years in Sales, I understand the challenges that sales leaders and salespeople face. I have carried a bag, managed corporate sales teams, busted quota through the years selling to multiple customer types: enterprise, mid-market, small medium business, distributors, retailers, and channel partner customers.
My successful C-level background in Sales, Technology and Leadership Development speaks for itself. I capped my corporate career at Microsoft, where I led sales teams and coached executives. Through the years I have sold $1B in sales.
My book, The New Handshake: Sales Meets Social Media is the first book written about social selling and was published long before anyone else was talking about social selling as a sales strategy. You might also enjoy my Harvard Business Review article Tweet Me, Friend Me, Make Me Buy.
I can help your team improve sales results as a keynote speaker, sales and social media strategist, corporate webcast or podcast host to amplify your brand, reach new buyers and generate leads. As a believer in contributing content to the sales community, I host the popular Razor's Edge podcast bringing the world's experts in business, sales, marketing and service to you. I am a contributing writer to Top Sales World Magazine and an advisory board member with Top Sales World.  I'm proud to say that I'm consistently ranked a Top 25 Influential Leader in Sales, a Top 25 Sales Influencer on Twitter, one of Top Sales World's Top 50 Sales and Marketing Influencers and recognized as one of the world's Top 65 Women Business Influencers alongside leaders like Arianna Huffington, Sheryl Sandberg, and Melinda Gates.
Connect with me: Linked In | Twitter | Facebook
TESTIMONIALS
I had the opportunity to invite Barbara Giamanco to speak at our All-Hands Sales Leadership Meeting for Sprint's Business Sales Managers and Directors in the Southeast and Federal Accounts.  I was referred to Barb who had provided a social networking session to one of my sales teams last year.  My objective was to introduce a more effective approach to prospecting in the burgeoning climate of social networking and leave the leadership team with some tools they could utilize to become more effective in their roles.
Barb took the time to spend with our team prior to the presentation to learn what critical issues Sprint was facing and how best to help us.  Barb's session at the meeting was one of the most highly regarded sessions of the three days.  In a short presentation, she delivered usable, critical tools that many of the managers put into motion immediately.  She taught them required elements that should be included in their LinkedIn profiles and how to use related tools, such as Inside View.
Following are a few examples of how the tools Barb introduced were utilized to deliver impactful results:
Prospect – "After a meeting with the prospect, we learned their parent company had an initiative to consolidate all their wireless lines (thousands). I was given the title of the person making the decision but that was it. I then found a C-Level contact at the parent company on LinkedIn who was connected to him. I was one degree separated from her and we shared three similar connections. I reached out to a common connection of ours to make a referral and then asked her who was responsible for the wireless consolidation task. I had a meeting with him one day later."
Former Customer – "After three+ years of trying to win back this customer's business (actually significantly more than was lost) we had been waiting on a decision. Having only the title of the decision maker, LinkedIn was able to tell me what her name was and it showed that we had two contacts in common. I reached out to one of my two contacts who reached out to the decision maker to help move the opportunity along and who sang our praises as we did an amazing job with 450 devices at a competitor's location."
Prospect – "A cold call to the President/IT director resulted in the prospect telling us to call back in a year. One of my reps went on LinkedIn and found a Director of Safety. We called her with a fleet tracking safety solution and secured a meeting. Now we are working on a solution for 50-75 devices."
I was so impressed with Barb's delivery and content; I asked our training department to review options for including this in nationwide training for all of our representatives which is currently under development.  We are looking forward to launching this program in the third quarter of this year.  Carolyn A. Rehling, former Vice President, Southeast Region & Federal Accounts – Sprint.
"You will not win The Revenue Game with one silver bullet but if you work with Barbara and her team, they will help you hit the target over and over again by combining your business goals with Social Media, the web and your sales team. This sustained effort will create the powerful revenue results your business needs." –Rick McPartlin, President, The Revenue Game 
"We used Barbara to deliver training to our sales team on two subjects: referral selling and leveraging LinkedIn as a sales tool. Simply put, Barbara was a huge hit. Both her knowledge of the subjects and her delivery were outstanding. She was received as credible, practical and effective. Several sales people told me after the training that they had never been to a better, more impactful training session. I enthusiastically and unequivocally endorse Barbara!" –Tom Ruderman, Executive Vice President and Chief Human Resources Officer, Active International 
"Barb has spoken on 4 occasions to my various Executive Forum groups of CEOs and senior executives. She is a true professional who knows her subjective matter inside out. She maintains an intellectual curiosity that ensures she stays up to date (i.e. this moment) and is able to present her material in an easy to understand manner. Most importantly, she doesn't over emphasize theory or get caught up in concepts with little value. Barb presents the facts and shows you how to use Social Media to generate revenue at no tangible cost. What a winning formula!" –Bill McIlwaine, President, Renaissance Executive Forums 
"I've worked with Barb on a couple of occasions. She knows Social Media inside and out! She's out on the cutting edge of helping salespeople generate revenue from the world of Social Media!" –Mark McGraw, Sales Engine, LLC